About GAiN - Global Adventist Internet Network
GAiN is a community of Seventh-day Adventist technologists, communicators and evangelists who connect to discuss the creative use of Internet technology in their work and in the lives of those whom they serve. GAiN was organized in 2004 by the General Conference of the Seventh-day Adventist Church. The community meets in an annual conference event, which is facilitated by the denomination's Communication Department and the Office of Global Software & Internet (OGSI), in cooperation with the church's world divisions and lay initiatives.
GAiN Website: https://gain.adventist.org
GAiN 2020 Online Conference

Dates:    Monday Nov. 30th thru Thursday Dec 3rd, 2020.

Times:   All sessions will be webcast 3 times each day to cover global time zones.

Languages:  English (EN), French (FR), Spanish (ES), Portuguese (PT).

Theme:  I WILL GO: Exploring Our Digital Future

Registration Fee:  $5.00 if reg. in Sept.;  $10 if reg. in Oct.;  $15 if reg. in Nov.

Conference Webpage: gain.adventist.org/conference/2020-conference/

Due to the fact that 2020 was a year originally scheduled for the quinquennial General Conference Session, the GAiN 2020 Conference had already been planned as an online event.
Registration is required to access the online conference sessions.
To register please Click Here.




PAST ANNUAL GAiN CONFERENCE EVENTS:
GAiN 2019 Conference
Location:  Sweimeh, Dead Sea, Jordan, Middle East.
Date:        February 22nd - March 1st, 2019.
Venue:     King Hussein bin Talal Convention Center.
Event Webpage: https://gain.adventist.org/2019/
Event Report: Click Here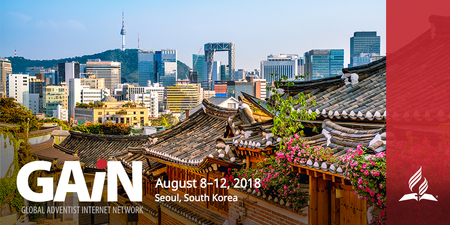 2017  Engenheiro Coelho, Sao Paulo, Brazil (held at Brazil Adventist University).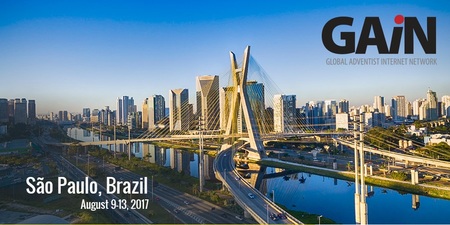 2016  Silver Spring, Mayland, USA  (held at the General Conference H.Q.)
2015  Online Event  (streamed from the General Conference H.Q.)
2014  Baltimore, Maryland, USA - Report
2013  Dubai, United Arab Emirates, Middle East
2012  Hong Kong, SAR China
2011  Montego Bay, Jamaica, Carribean
2010  (not held due to GC Session year)
2009  Orlando, Florida, USA
2008  Denver, Colorado, USA
2007  London, England, UK  (held at Newbold College)
2006  San Diego, California, USA
2005  Bangkok, Thailand
2004  Silver Spring, Maryland, USA  (held at the General Conference H.Q.)

  
GIE 2003 Las Vegas NV - Forunner of GAiN
This initial "Global Internet Evangelism" (GIE) forum conference event, held in 2003 in the Circus Circus Hotel, Las Vegas, Nevada, USA, led to the launch of GAiN as an annual conference event.

Organized by the GC Council on Evangelism & Witness (CEW), the GIE gathering was supervised by Elder Ted Wilson in his role as a vice-president of the General Conference with oversight responsibility for communication and media. Sessions were led by Ray Dabrowski, GC Communication Director, and John Banks, Associate Director; and Dan Houghton, President of Adventist-laymen's Services and Industries (ASI).


Bug Report
To contact the webmaster about a defective link or other bug, please click here.